'Women should come to my wife for training'
Entertainment of Thursday, 23 February 2023
Source: www.ghanaweb.com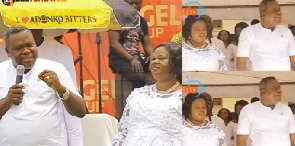 founder, Dr. Kwaku Oteng and his first wife" width="295″ height="146″ /> play videoAngel Group of Companies founder, Dr. Kwaku Oteng and his first wife
Popular Ghanaian business mogul, Dr. Kwaku Oteng, has rained praises on his wife at her birthday party.
The Angel Group of Companies founder, threw a lavish private party to celebrate his wife who according to him, has been his backbone in their 33 years of marriage.
Recounting some of the sacrifices his wife made to support his career, Dr. Kwaku Oteng said she resorted to selling boiled yam and rice to foot the bills in their home.
Idolizing his wife, Dr. Oteng said he wished Ghanaian women will undergo some training from her.
"If I want to start talking about my wife, I won't end now. I'd want every woman in Ghana to come for training from my wife. A respectful and empathetic wife who loves her husband. You won't understand what I'm saying. Before, I had nothing. Things were extremely difficult for me. But she stood behind me.
"She sold rice and yam at a school in Mampongten. She had the patience for me. She took care of the kids' clothes and fees. If you look at her age, you'd know we didn't start our journey now. We've been married for over 30 years. She is principled and speaks her mind. She doesn't keep things in her heart," Dr. Oteng stated.
One can recall that in November 2022, Dr. Kwaku Oteng who is said to have five wives, flaunted the first one during an interaction with gospel singer, Piesie Esther.
Watch the video below:
EB/BB
Related Posts